Upcoming events:
Special Power Yoga with Weights, Saturday, June 24th, 7:45 - 8:45am with Paula Wilson
June 24th Final Yoga Basics class before Summer Break - Back in September

Class Cancelled

Sunday, June 25th 9am due to the Amesbury downtown Car Show
Final Friday Yoga & Social, June 30th, 6:00 - 7:00pm Yoga with Kate Fazio and her fun playlist, followed by social time at the Ale House
Yoga at Lake Gardner Beach, Saturday, July 1st, 8 - 8:50am; 9 - 9:50am
Yoga by the River, Sundays in July and August from July 9th, 8:30 - 9:30 am; $10 or Pause Memberhip/Card; meet at the studio if rainy or wet
Introduction to Yoga 4-Week Series, 6:45 - 8pm, Wednesdays July 5th through 26th with Barbara
New Class: Yoga Tone, Thursdays 9:15 - 10:15 beginning July 6th with Jennifer

SUP Yoga at Lake Gardner,

Sunday, July 16th at 10am
---
The Complete Self Care Package! with Emily Wiswell


This 60-minute or 90-minute session will include:


* 1 free email or phone call consultation so the session can completely suit your needs
* a private RESTORATIVE Yoga session with the use of blocks and multiple bolsters for total comfort and relaxation
* Essential Oil Massage and Assists (Reiki Infused)
* Complimentary Face & Body Scrub to use for yourself or gift a friend!
Investment:
60-Minute: $112
90-Minute: $165
Contact: emilychandrayoga@gmail.com

---
Did you know that in addition to yoga classes we offer various other healing modalities such as Massage Therapy and Reiki Therapy by appointment.

See the Services tab for details and booking information

.


Fabulous Merchandise for Sale: high quality yoga mats from Gaiam, super cute yoga mat slings by ZOZ, gloves, hand towels, Young Living essential oils & more are available! View our retail section in our studio lobby or ask your teacher on your next visit!
Welcome
Gentle Wake-up Stretching Practice
---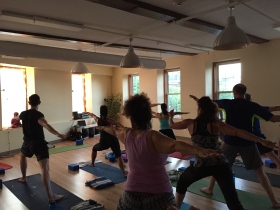 Ready to commit to a package of classes? Sign-up for a 10-class card or monthly unlimited membership. Are you new to Pause Yoga in Amesbury? Then our New Student Special is for you: 30 days for $49! Sign-up here!